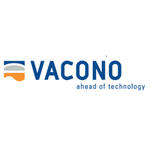 VACONO a traditional German company with over 100 years experience in the aluminium industry can also boast of 40 years production and supply of VACONODOMES – geodesic dome roofs and VACONODECKS – lightweight internal floating covers to protect product and reduce evaporation losses in the petrochemical industry. With over 5,000 units produced and sold in more than 100 countries worldwide it seen to be one of the leading companies in its field.
As its logo "ahead of technology" suggests and due to ever increasing market demand (in part due to stricter statutory requirements to reduce emission levels) for full contact internal floating roofs, Vacono has designed, produced and successfully installed their new Aluminium Full Contact Deck VACONODECK AL-FC QE² . Its unique design is not only extremely effective but also competitive in terms of price and delivery. For example, the welded seams in the product are reduced by 99% vs. competitive design. Also the highest vapor efficiency of all non-welded FC decks was achieved. Moreover the design allows best-in-class installation time and it can be installed without scaffolding.
VACONO is the only manufacturer in the world that therefore offers such a wide range of materials and choice for internal floating roofs acknowledging the fact that countries and customers have different criteria when making their selection, thereby providing tailor-made solutions to fit these requirements.
Country of origin

Main office
Friedrichstr. 50, 79618 Rheinfelden